Travel Escapes Part 1: Sun, Sea and Mountains
A few years back, sitting on some train in some part of the world, I was watching beautiful countryside zip past with AR Rehman classics playing in my ears. N sat near me reading a book. Our lone suitcase was stashed away in the luggage rack. I was so gleefully happy in that moment and being possessed with the time of a man gazing out of the train window, I wondered why I was so happy right then. It was just a train ride. Sure, the scenery was beautiful but it seemed insufficient as the source of so much mirth. That's when I had an epiphany on why Travel gave me such a high.
People wander for various reasons. Some do it for learning. Some for experiences. Others to meet new people. There are also those who travel because, well, FOMO. I've done a bit of all of the above but my primary motivation has always been the escape. Like books, movies and day dreams filled with superpowers and magic, travel, to me, is a fantasy escape on steroids.
Nothing makes me happier than living off a bag, un-tethered to the mundanity of daily responsibilities, and encountering interesting places, people and experiences. My mental model for the world was largely shaped by travel. Escape, counter-intuitively, served as a lesson to learn about who I am and why I am.
All escapes need a suspension of disbelief. And so does travel. You need to forget the EMI waiting for you back home or the piling unread mails in your inbox and give in to the trance. Cord-cutting rituals help. For me and N, it begins with immigration and is fully realized when the wheels of the plane lift off. We step out of our existential reality.
This newsletter is part 1 of a series on such escapes, the best ones in my experience. There'll be more parts. The list isn't comprehensive or rank ordered. It's not a travel guide nor suggesting that one MUST see these places. The idea is to entertain and inspire if you like reading about places and mulling your next trip. Consider it inspiration for 2020. And ask for an itinerary if you're feeling too lazy to create one yourself.
Part 1 is sun, sea and mountains - French and Italian Riviera, Lofoten Islands and Tasmania.
Fair warning - this is longish and self-indulgent.
Best escapes - Part 1
French / Italian Riviera - Maybe, money can buy happiness
France: Monaco, Nice, Villefranche-sur-mer, Eze, Antibes, Roquebrune-cap-martin, and any little place on the coast
Italy: The villages of Cinque Terre - Monterroso, Vernazza, Corniglia, Manarola and Riomaggiore
I have a wild bucket list fantasy: live in a small cottage perched on a crag by the azure sea in Italian or French riviera and do nothing much but read, write, drink coffee, some wine and listen to music. In more heady days, I'd add a small Yacht to this mix and imagine floating in calm waters, sipping on a cocktail. It's become a running joke in the household. Whenever I bring up the topic of quitting my job to write, N makes it a point to ask 'how will you buy the cottage in French riviera then?'.
I just like being there, doing nothing. I can spend days estimating the price (and wildly getting it wrong) of yachts parked in the Monaco bay. There's something to wearing chappals, cheap shorts and t-shirt, and staring at the multi-million dollar Ferraris and Lambs driving up to the Casino. But Monaco is not why I love the Riviera.
The copper-sulphate blue of the sea here, billowing white clouds in an equally blue sky, the little villages perched on the cliffs overlooking it all, a train system that hugs the coast all the way across the two countries (France and Italy) and the pervasive, mild racism of old restaurant owners who have no choice but to serve the hairy brown dude from India all add up to making me an extremely happy person.
We keep going back to it. The very first time was a slam-dunk. On recommendation of a friend, we added Cinque Terre, a cluster of five villages perched on the mountainside overlooking the sea on the Italian riviera, to our honeymoon trip nearly a decade back. When the train stopped at a little station that was perched near the ocean, I was sold. The villages look like a dream - pastel colored cluster of toy houses, improbably built on mountains, hanging over the sea. The trek from Monterroso to Riomaggiore (around 16 kms), along the mountain, overlooking the sea and occasionally through vineyards and squares is the most scenic walk you could take.
On the French side, if Monaco is a crass portrait on luxury and Nice offers a nicer, more earthy bustle, it's the little villages that dot all of the French riviera that truly stun. Board a train and get down at any of them and spend the day climbing up, walking around the cobble stone paths, staring at the sea and eating good food. You'll find little lanes that have rendered out of fairy tales and gardens which stun in their beauty and location overlooking the never ending ocean.
Things to do: Stare at super cars in Monaco. Walk the unending Promenade des Anglais in Nice, especially as dusk settles in, preferably holding hands with your partner (or anyone of choice for that matter). Stroll in little villages like Eze or Villefranche with dramatic sea views and cute little alleys. Hike down to and along the coast (including Nietzsche's path) and in light headed moments seek answers to life. Eat Gelato, Pizza, Pasta, cheesy things, have a coffee and make a mess with fresh croissants and desserts. Travel along the coastal train watching the sea. Visit Jardins and manicured little squares.
Best way to travel: You can travel up and down the coast as day trips. For Cinque Terre, you could be based in Florence or Pisa and make a day trip or two to cover all villages. Stay in the villages is expensive, difficult to find and even overrated in my opinion. For the French Riviera, there are many places one could stay including Monaco and Nice and make multiple day trips to all the places along the coast.
Lofoten Islands - Norse Gods live here
Svolvaer, Kabelvag, Trollfjord, A, Henningvaer
There are places that you need to fall in love with and then there are places that are instant infatuation. They come in strong, take your breath and a little piece of your heart in the process.
We visited Lofoten in the summer - not quite unending days but quite close. We landed at 10.30 PM and have a two hour drive from the airport to where we stay. Its raining mildly and already looking dark leading my anxiety rising up a few notches about the drive coming up. Rentals done, we head out of the airport and into something quite otherworldly.
The weather is cloudy with a light drizzle in the air. The filtered storm light makes everything look like a painting. I suspect that our flight went into a wormhole and landed us in an alternate world. Not five minutes from the airport and the road's already winding through steep crags and fjords. Occasionally there's ocean, and a massive bridge over it. Everything's coming up at the speed of Crazy Mohan jokes in a Kamal movie - before you fully take in one scene, it's gone and there's something better, more dramatic.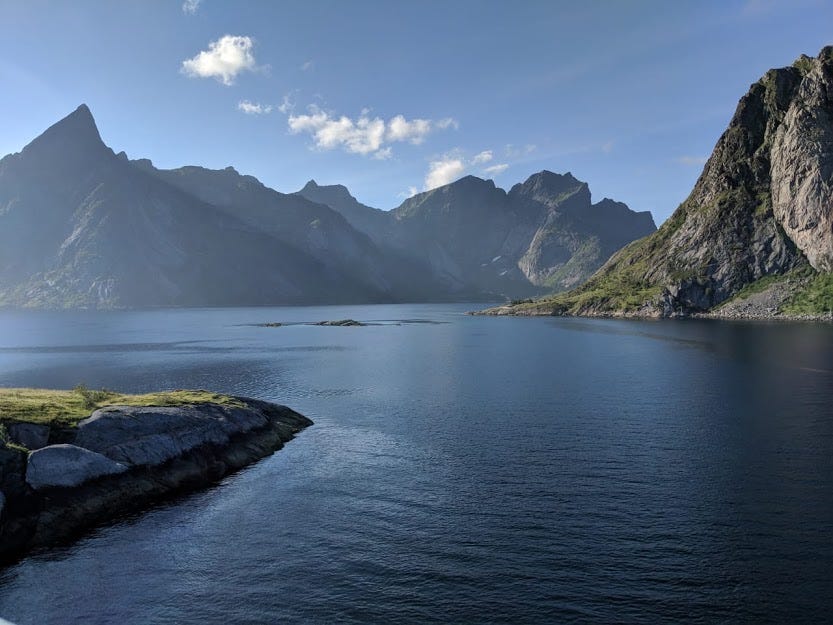 Then we crest a little hill and a new fantasy-scape awaits us. Two imposing mountain-lets come into view, their tops lost in wintery mists. To the left is the ocean, the road winds around these crags. And then through a gap in the mountains, with the parting of the rain clouds, sun light beams down - like manna from the heavens. Lofoten had us then. We were certain we were trespassing into the God's country - how else do you explain no other car on the roads to nowhere.
Have you ever ordered a massive portion of your favorite dessert, and then gorged on three-fourths of it while orgasming mildly and then suddenly sat back too full and realized that it feels cloying now. Lofoten is that level of gorgeousness. By the third day we were like, "that's just another dramatic Fjord with an imposing mountain."
We did a 'moderate' hike up Fesvagtinden - an imposing crag near the village of Henningsvaer - found a lake on top, saw beautiful blue seas, the village of Henningsvaer as a tiny cluster. On the climb down, found that the word 'moderate' has been abused. With a prayer on our lips and N being caught by me jumping across rocks, we somehow reached level ground. Standing on top of majestic, tall bridges we could spy little villages and Rorbuers perched among the wilderness. We drove to a western edge of the island to catch the setting sun at midnight. (If you went in a different season you could catch beautiful, unadulterated northern lights). We drove all the way A on its southern end, punctured our car tyres and had two old men help us change them.
Things to do: Visit the fishing villages. Live in a Rorbuer and wake up to otherwordly views. Hike up the mountains. Chill by a Fjord. Eat and drink. Drive up and down the long coast taking in endless dramatic scenery.
Best way to travel: Fly into Harstad-Narvik airport Lofoten and rent a car. The island itself is very long but a vast majority of dramatic sights lie between Harstad-Narvik and A, which is its southernmost tip. This drive in itself is nearly 300 kms and would take you 4.5 hours if you never stopped. This is impossible in Lofoten. You'd be stopping every 10 minutes for a new, grand vista. The best way to explore is over several days by choosing a different accomodation every couple of days to shift base and explore. Plan to be there for at least a week.
Tasmania, Australia - Unsupervised little heaven
Hobart, Launceston, Tasmanian Peninsula, Freycinet national park, Tamar Valley
Did you know that Australia had five different PMs in five years? It's very unlikely that you did know that because Australia is the forgotten continent that we in India think about only when David Warner scores a big one. Now then, imagine being Tasmania. The little, thong-shaped island, floats unsupervised in the shadow of continental Australia. It's like being the innocuous younger sibling of a forgotten cousin.
Tasmania, by virtue of being aloof from continental Australia (and as a consequence, the rest of the world) is more Tasmania than anything else. It feels wilder, the communities more local and the seas prettier. The Tasmanians I've encountered have often been friendly and pleasant. The moment you land in Hobart (if you plan to land there), you are now in a whole new world.
Surrounded by blue seas and spectacular landscapes, Tasmania is the perfect road trip destination. It's the clandestine offspring of Australia and New Zealand. On the one hand you'll find signs of the Tasmanian Devil (a little carnivorous, dog-sized marsupial that's battling a unique cancer that's spreading across its population) and on the other you'll see friendly Wombats and peaceful Sheep across rolling hills.
The car is your friend in Tasmania. Rent it and drive around the large island, exploring its national parks, the capes, hiking paths and quaint little towns that you may encounter. Two weeks would still not be sufficient to cover the entire island, especially if you plan to take up any of the wildscape's seductive suggestions to hike, swim, climb, surf, kayak, whale watch, etc.
We went once to Tasmania, fell in love wildly, and went again. Yet, we've reliably covered just the eastern half of the Island which is a good place to start if you need any signs of human habitation.
The largest city of Tasmania, Hobart, is still a cute little town that lies in the shadow of Mount Wellington. In the unshackled brightness of Australian summer (the sun seems brighter there, and the seas bluer), its waterfront glows and bustles. Being of the disposition to dream of yachts, I spent the days gazing away at the boats, drinking beer and strolling around. Kids, less than 8 years old, raced in little boats while the crowd cheered on. That's fucking Australia.
The views of Hobart from Mt. Wellington are gorgeous and the wind, fucking, freezing. MONA's a trip (quite literally). I am a philistine who'd rather hike or drink than go to a museum, but MONA is...something. A pleasant ferry ride later, you'll see most quirk per square feet than anywhere else.
In the North East there's the town of Launceston, quainter and smaller than Hobart with an expansive waterfront and hides away a spectacular Cataract Gorge just minutes from town. This was the base for our second trip to Tassie (as the locals call it). On the eve of New Year 2019, we witnessed beautiful fireworks here.
But Tassie presents is most spectacular self when you start driving out of the cities. Start driving from Hobart down the Tasmanian peninsula to see alien landscapes like Tessellated plains and hills that fold into themselves. Eventually, you'll reach Cape Raoul where you can hike serenely (our only company was a Wombat and Hedgehog) to stand on top of Tasman sea.
Similarly, drive out of Launceston and you hit the beautiful Freycinet National park and the wineglass bay. In an unforgettable trek, we went from one bay to another, a 15 km moderate hike which turned dangerous in the 50 degree Australian summer sun. Freycinet, though, hides away a million trails with astounding views.
Drive in another direction from Launceston for the wine route in Tamar valley. With scenic views of rolling vineyards, the glistening Tamar river and many hundreds of wineries to stop and taste, it's the pleasure day to balance the physical exhaustion of a trek. After polishing off lots of wine and cheese, we bought more wine which was promptly polished off in the room later.
Things to do: Wander around the historical Salamanca markets by the waterfront in Hobart. See strange art at MONA. Drive down the Tasmanian peninsula and see alien-scapes. Trek up quiet peaks and watch the ocean like you're the last people left in the world. Pet a Hedgehog (nope). Encounter Wallabies in the wild. Drink lots of wine in Tamar valley. And hike the beautiful Cataract Gorge. Stop in the middle of an empty and never-ending road and soak in the beautiful landscapes. Take a selfie with a sheep. Keep driving.
Best way to travel: Get into a major Australian city (Sydney, Melbourne, etc.) and take a flight out to either Launceston or Hobart depending on where you want to start the trip. Rent a car and just drive.
Phew, more to come
Tyag