Happy 2020!
As I make resolutions for the new year, it seems to me that if I hadn't seen TV in 2019, I could have done a lot with my life. No, I am serious. I've spent anywhere between 25-30% of all waking time watching content (TV, Movies). I really need to fix this and get myself to do more useful / productive things.
But, since I've spent all that time anyway, I thought I could at least put it to some use - listing down all the TV i've seen, rating them, calling out what I liked (and what I didn't) and letting this serve some purpose for someone.
This is only TV as I've defined here: Does not include the dozens of stand-up specials I saw (call out to Alex in Wonderland for being spectacular), any episodic TV (E.g. Shark tank, Brooklyn nine nine, John oliver, Hassan Minhaj), explainer series (E.g. Buzzfeed Explained) or documentaries. No movies are included too. Should Irishman rank as TV given its length? Also, this is the TV I saw in 2019. It's quite possible they could have released earlier too.
Netflix has been the clear winner on amount of time spent and content consumed watching TV (and as a consequence, overall). Lowest is Prime Video where TV sucks (I can't bring myself to watch its Indian shows yet). On the other hand Prime Video and Hotstar rank higher in terms of movies I saw this year (purely because of better regional content there). Hotstar purely survived on HBO + Mallu movie collection combo. Given a choice, I wouldn't mind Netflix acquiring all of them purely because of how good the platform is. Maybe a separate post on all the movies if I have the enthu.
This post has been a while in the making starting back in december. In between, I had some pesky tasks like moving my life to a new country, joining a new job, etc. Hence the post's a bit delayed.
---
The Exceptional
Chernobyl (HBO/Hotstar, Rating: 4.75/5)
I remember watching the first episode when it was telecast on TV in the US without knowing anything about what it was going to be and was gripped. The knowledge of the impending nuclear disaster makes it all the more frightening and intense. One of the best TV I've seen.
Succession Season 1 (HBO/Hotstar, Rating: 4.5/5)
It is becoming evident that I am a sucker for HBO. They know how to make great TV. And what a TV succession is. Does extreme wealth go hand in hand with dysfunctional, psychopathic humans? Succession's greatest achievement is to make you root for the kind of characters you normally despise on TV and perhaps in real life.
Succession Season 2 (HBO/Hotstar, Rating: 4.75 / 5)
For much of this season Kendall is a ghost of a man - looking broken and vacant - a dog that obeys his father. And in these moments, succession season 2 became a ticking time bomb. There's an almost endless supply of depravity and collateral impact of the family on regular joe. Then there's all the sadness. This season gave the best 10 hours of content I've experienced in 2019. Period.
Fleabag Season 1 & 2 (Prime Video, Rating: 4.5 / 5)
Dark, gut-wrenching and funny af. It's like watching Charlie Chaplin entertain us to laugh so hard and also present us with the dark, downward slide of his personal life at the same time. The fourth wall breaking quips send you squealing with mirth.
Dark (Season 1) (Netflix, Rating: 4.5/5)
A time travel story peddling mysteries surrounding the intertwining secret-lives of multiple characters. It evokes the same kind of magical, sci-fi amazement that Lost managed to evoke but with the kind of delicious what-if plotting that Blake Crouch does. Be prepared to have your mind twisted quite a bit. Perhaps have a notepad and pen in hand for this one.
Ozark (Season 1 and 2) (Netflix, Rating: 4.5/5)
In some ways, Ozark is a true (perhaps darker) successor to Breaking Bad. Trades the magical realism of Breaking Bad for some small-town, lost-in-the-woods vibes and at times, unrelenting series of shitstorms that Jason Bateman handles with surprising ruthlessness.
The Great
Watchmen Season 1 (HBO/Hotstar, Rating: 4 / 5)
Watchmen combines the gravity of its amazing source material and the serious real-life stuff of white supremacy, police brutality and racism. This show goes across time, space and merges the real with the fantasy so effectively that we feel entirely breathless. It's twisty final episodes are a delight.
Dark (Season 2) (Netflix, Rating: 4/5)
After that spectacular season 1, there was no way I was not watching season 2. Season 2 takes you through more Penrose stairs folding onto itself. Dark builds slowly and methodically without trying to over-explain a complex plot but at the same time seems to devolve in the end to plot contrivances that made it feel a little YA.
The Boys Season 1 (Prime Video, Rating: 4 / 5)
Based on the comic series, the TV series supposedly dials back on the gratuitous violence and explicit content.Ha ha ha ha.Rotten Supes (superhumans) rule the world. There's corruption, drugs, narcissism and of course superpowers that perhaps drive this behavior. The scariest thing about The Boys is the fact that the Supes are mere puppets, engineered on their fragile egos to serve the purpose of the ultimate evil that's relatable to us - the corporation.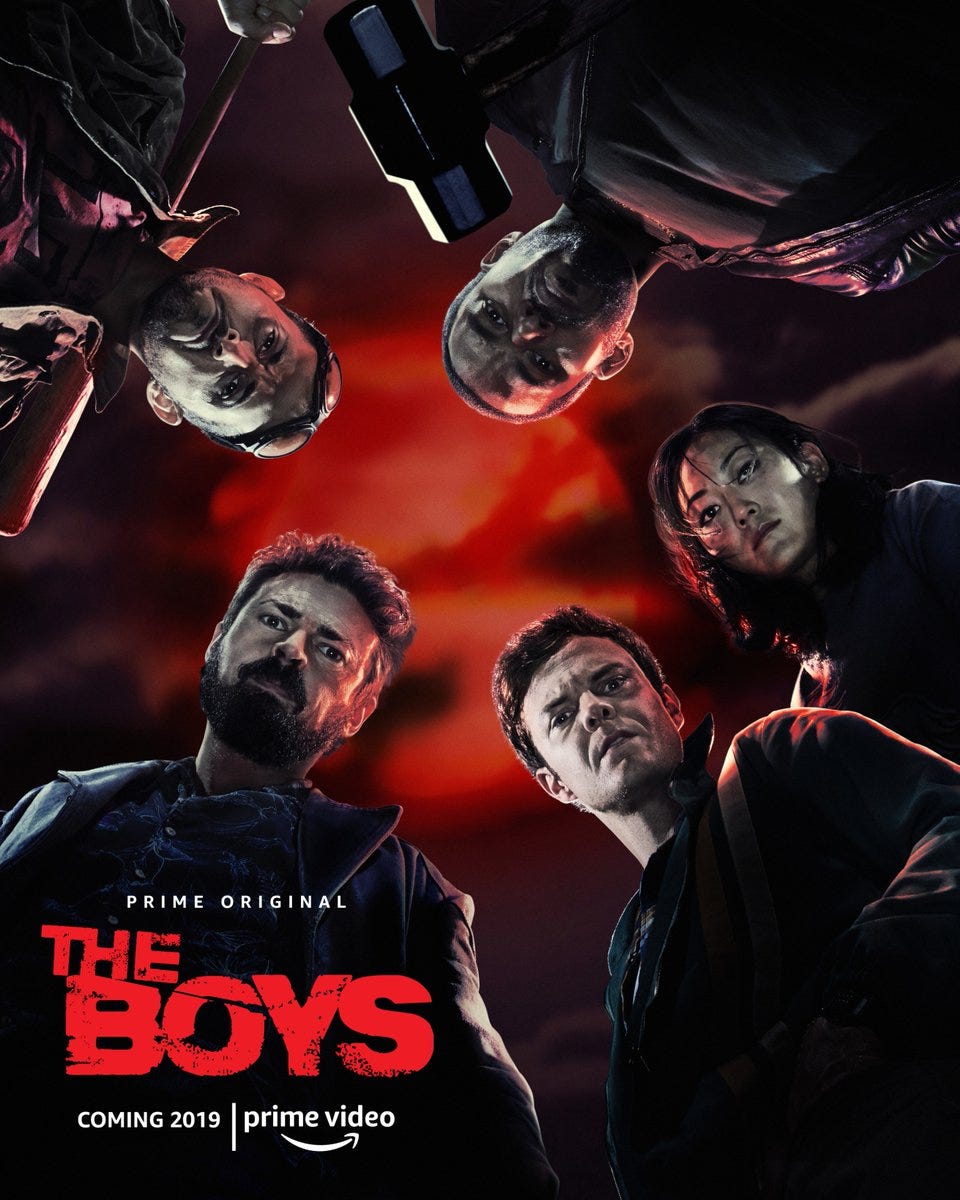 You (Season 1) (Netflix, Rating: 4/5)
Internal monologues that are smartly written are always fun. What if it's that of a sociopathic stalker? Delicious. There is a sense of coziness in the den of books and literary references interspersed with the insidiousness of all-revealing modern-day digital lives. Occasionally, the show snarls into shocking moments of derangery.
Love, Death and Robots: Volume 1 (Netflix, Rating: 4/5)
It's first unsettling. Is this all animation or real? Is this the future of TV? Then there are brilliant episodes that are so deliciously pulp with the joy of 'twist ending'. When the Yogurt Took over qualifies for best 6 minutes of TV this year. But, there are some average episodes hidden amongst the ranks. The good thing is that it's all super-short.
Street Food (Netflix, Rating: 4/5)
Wow! It's not about the food, it's about people. Amazing stories are told through the lens of street food and those vendors across Asia in Bangkok, Singapore, India, Japan, Vietnam and more. The production quality is beautifully cinematic with some great music.
GLOW (Season 1 & 2) (Netflix, Rating: 4/5)
So much fun! The spandex-wearing, glitter dusted gorgeous ladies of wrestling is based on the 80s show by the same name. GLOW is funny, intelligent and downright silly at the same time. Yet, it grazes an emotional core to keep us vested in the characters. Season 2 continues its terrific run. I quite enjoyed the wrestling set pieces (of which there are more of, in this season) too.
Marvelous Mrs. Maisel Season 3 (Prime Video, Rating: 4 / 5)
There's a certain aesthetic to Marvelous Mrs. Maisel, a kind of colorful, elite and sharp tongued boisterousness - like a polished Christmas movie. Funny, of course. Mrs. Maisel is adorable. Yet, in season 3 you wonder if the aesthetic is feeling a little cloying now and we've stopped taking everyone seriously see them as mere caricatures. Where it goes in season 4 would be very interesting to see.
Criminal: UK (Season 1) (Netflix, Rating: 4/5)
Fantastic crime series that focus on the interview in the interrogation room and surrounding drama. Intense, twisting and makes you marvel at the intricacies of interviewing and seeking confessions from suspects. David Tennant in episode 1 is the boss.
The Good
Good Omens (Prime Video, Rating 3.5 / 5)
If only all doomsdays came with such fun and heart. Good Omens does as much justice to its material (which had its fun and heart literally come from the two master practitioners of it) as it possibly can and David Tennent and Michael Sheen perhaps even elevate it between them. Outside of these two, the rest of the stuff is just incidental.
The world's most extraordinary homes (Season 2) (Netflix, Rating: 3.5/5)
While N likes watching pure fiction on TV, I love watching stuff like this too. It's the ultimate escape-reality TV showcasing exotic houses of incredible architecture set in amazing locales. Unlike the typical reality-TV trash, this one, hosted by Carolyn Quentin and Piers Taylor has the kind of newbie fun and also the wry British humor to keep it un-cringey.
Russian Doll (Season 1) (Netflix, Rating: 3.5/5)
What a fun twist to the time-loop trope! RD is a darkly funny show that takes you on a trip that's quite bizarre. "The universe is trying to fuck with me, and I refuse to engage!" One downside: It got a little tiresome for me - all the looping - and the ending was a bit meh.
Happy! (Season 1) (Netflix, Rating: 3.5/5)
It's from the maker of Crank. It's as insane as you are imagining it. Starting from a silly premise, the show just goes overdrive on a booze addled, violent trip that makes your head spin and laugh with deranged merriment.
Trapped (Season 1) (Netflix, Rating: 3.5/5)
The cold, desolate beauty of Iceland is the backdrop to this gripping narrative. Binge-worthy series that gives you a taste of icelandic culture (which we've probably never seen in popular culture) and leaves you hunting for warm blankets and hot tea.
Black Earth Rising (Season 1) (Netflix, Rating: 3.5/5)
This was bloody intense! This should ideally have a higher rating but I was constantly shocked and uncomfortable by how 'real' the anger of the protagonist was (as it should be if you are a survivor of a genocide). Visually stunning, black earth rising is a must-watch but don't treat it like just another evening binge.
Mindhunter (Season 2) (Netflix, Rating: 3.5/5)
David Fincher. Tight, well-made series. I know I am supposed to like and rate it higher but it just feels emotionally cold (as David Fincher's other stuff usually does). In season 2, Mindhunter continues with its slow, calculated and often intentionally frustrating detective and profiling work as the lead characters continue immersing themselves in the world of serial killers. It's smart and polished, but at times gets a little too plodding with more-of-the-same vibes.
Living with Yourself (Season 1) (Netflix, Rating: 3.5/5)
Paul Rudd doing less Paul Ruddy things. The premise of the show veers between silly comedy and science fiction but hints just about at darkness and malice that it keeps you gripped.
Our Planet (Season 1) (Netflix, Rating: 3.5/5)
David Attenborough. Stunning visuals of our planet and its inhabitants. Our Planet tries to bring the glorious visuals of BBC's Planet Earth but shocks us more by call out the depressing facts clearly. Must be prescribed watching for the era we live in.
The Average
Silicon Valley Season 6 (HBO/Hotstar, Rating 3 / 5)
Honestly, didn't find this as funny at all in the final season. The fun quotient began to drastically drop the moment Erlich Bachman left the show (I am yet to forgive T.J. Miller for this decision). With Gavin Belson being neutered and Dinesh-Gilfoyle setup getting predictable and boring, it only had its satire left to carry the humor and it sticks to its promise doggedly rather than flamboyantly. Call out to Veep on making a show that's hilariously funny every single season (it has a place in the pedestal of funniest shows ever)
Salt Fat Acid Heat (Season 1) (Netflix, Rating: 3/5)
The kind of comfort TV I love watching once in a while. SFAH combines travel and culture with basic food in a stylish but non-pretentiousway.Feel like you are standing in a bright, sunny Italian kitchen and making warm focaccia bread.
High Seas (Season 1) (Netflix, Rating: 3/5)
The show promised to be a fun, closed-room mystery. Cruise ship. Mysterious characters. Strange events. It's mostly stuck to its promise of fun. The plot keeps moving forward a little bit as if the writers perhaps thought episode by episode to come up with stuff.
You (Season 2) (Netflix, Rating: 3/5)
Personally found this a little disappointing. It had nowhere to go after S1 and I kinda saw the final 'twist' coming on episode 1. So, there.
Leila (Season 1) (Netflix, Rating: 3/5)
Loved the world building that was presented fairly subtly but the plot was one dimensional and characters were mostly black or white. Leila could have asked us more complex questions but instead chose to go with predictability.
The Bad
Black Mirror: Bandersnatch (Netflix, Rating: 2/5)
There's the trademark Black Mirror horror and the excitement of choosing your own story narrative (like those books from childhood) but honestly it felt plodding and conceited. I just couldn't immerse myself in the story nor care for it. The constant interruptions to select random choices just made it less interesting for me. This form of content has some way to go.
High Seas (Season 2) (Netflix, Rating: 2.5/5)
Season 2 devolved into something even more campy and silly. By the end there were ghosts appearing for real and weakly explained closure for the open mysteries. The characters kept repeating their role-definitions with no surprises. Skip.
Sacred Games (Season 2) (Netflix, Rating: 2.5/5)
Honestly, the second half is a huge let down. The whole Guruji arc was too random and snooze-worthy. The characters didn't really evolve after season 1. And it seems like all Kalki Koechlin ever does are the exact same role. Skip.
Game of Thrones Season 8 (HBO/Hotstar, Rating 2.5 / 5)
I knew it before it happened. The moment they went away from books, this would devolve into a predictable snoozefest. The final season was ample evidence of that. They tied up all plots with an almost predictable cliche and turned this into some sort of campy fantasy series with lots of action instead of the dark, medieval tale of scheming that it was.
True Detective Season 3 (HBO/Hotstar)
I think I saw this but have no recollection so can't rate. Either I gave it up halfway through or it was so unmemorable. Either way, can't have been that good.
---
So, that's it. What amazes me is the sheer volume of good content we get to watch. Imagine and compare this with just about a decade back. I am not sure if it's a good thing or bad. What if we had only the fascistic governments and climate change and none of the good TV. All I'm saying is it could be worse.
Tyag